Have you ever used an air fryer? Phillips air fryer is one of the best air fryers you can use when you want to prepare healthy and delicious foods. It allows you to make foods that are crispy on the outside and juicy on the inside. This fryer uses rapid air technology, which enables it to cook food using hot air only. The foods prepared contain 70%- 80% fewer fats. It has a fan that enhances movement of hot air within the fryer. One of the benefits of using this fryer is that you do not need oil when cooking. With this fryer, you can bake, grill, roast and fry any food.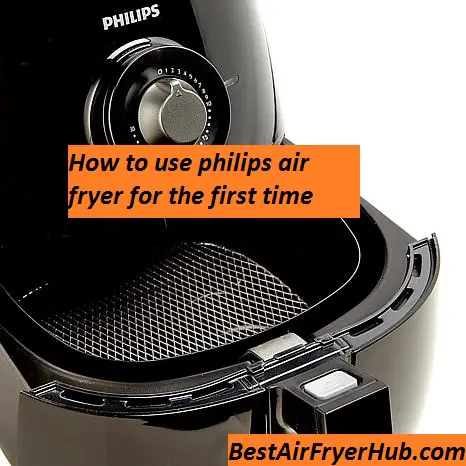 Do you want to learn how can use Phillips air fryer? This article covers that and much more. Read.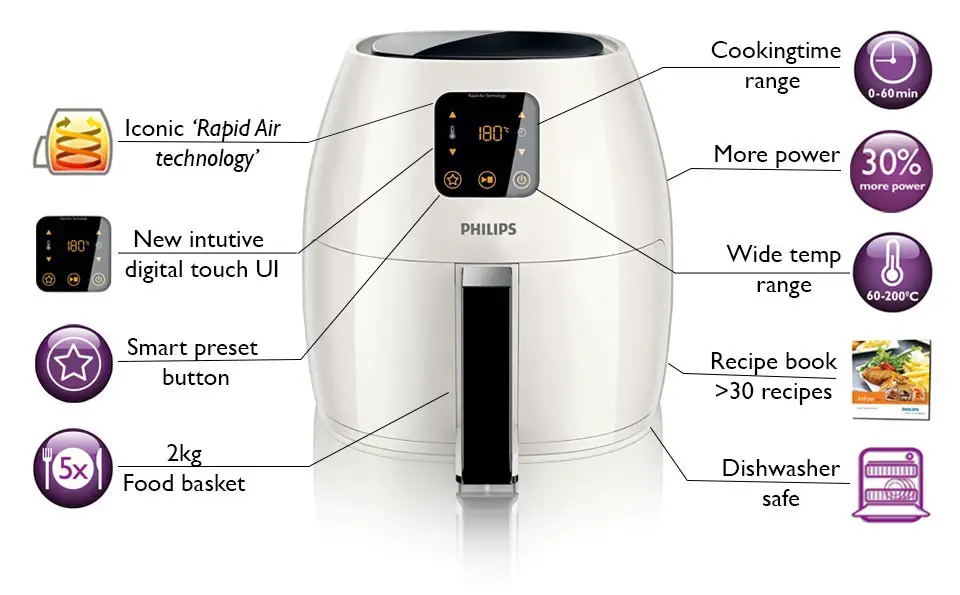 Makes sure you have read the user guide keenly.
Temperature and time vary depending on the type of food you are preparing.
Avoid using oils.
Clean the fryer after every use.
What You Should Do Before Cooking
Preheat the air fryer for about 3 minutes
Do not overcrowd your food in the food basket. This is done to speed up the rate of cooking since there will be enough airflow. If you are preparing pre-packed foods, you should lower the oven temperatures by 70°.
Shake the cooking basket thoroughly and rotate your food after every 5 or 10 minutes. This allows your food t be cooked equally.
When preparing foods that are rich in natural fats, you should remove the fat that settles at the bottom to prevent excess smoke.
Clean the cooking basket and the pan after use to prevent your kitchen from smelling.
Cleaning also helps to loosen food particles which remain on the cooking basket.
You can clean by soaking the food basket in soapy water for about 10 minutes and then scrub.
When cleaning the pan and the food basket, ensure you are using the non-abrasive sponge to clean.
Clean the inside and the outside parts of the fryer. You can use a wet cloth when cleaning the outside part. Use hot water and a sponge to clean the inside parts.
You can clean the heating element with a soft bristle brush. Avoid using a steel wire brush.
This should be done when you see excess smoke coming from the air vent at the back.
Factors To Consider When Cleaning
Ensure the machine has completely cooled.
Unplug it from the power source
Keep it upside down when cleaning.
Why Should You Buy Phillips Air Fryer?
Unlike other methods of cooking, Phillips air fryer enables to prepare healthy and delicious foods without adding oil.
It cooks fast as compared to other cooking appliances. It has a 30 minutes timer and alerts you when your food is fully cooked.
It allows you to fry foods, roast, grill, and bake.
It has a large cooking capacity, and it can help you if you have a large family.
It has digital controls which allow you to set the best time and temperatures. You just need to set it and let it do the work as you continue with other activities.
You do not need to assemble the parts, you just open and use
You can quickly clean it, and you can do that in a dishwasher.
It comes with a recipe booklet which guides you on how to prepare different types of meals.
How to use philips air fryer for the first time
Do you now know how to use Phillips airfryer? As we have seen, it is one of the best fryers you can consider. There are so many benefits of using Phillips air fryer. Out of the fryers I have previously used, this fryer is absolutely the best. It is very easy to use and has fantastic features. Who does not enjoy healthy and delicious meals? This is what makes it to be ideal to everyone.  Fats add calories to our bodies that can lead to diabetes and heart problems and when using this fryer, you are free from that since you do not need to add oils when cooking. If you have not yet bought, I would advise you to look for it. This is one of the best decisions you can make today.