With an air fryer, you can prepare crunchy meat and fries. In addition, an air fryer can help you roast vegetables, reheat food, bake and even air fry your favorite meal. However, you may not get the best results if you don't have the right air fryer accessories. The accessories make work easier, and enable you to cook almost anything you want with an air fryer. How do you use air fryer accessories? For a detailed answer, continue reading.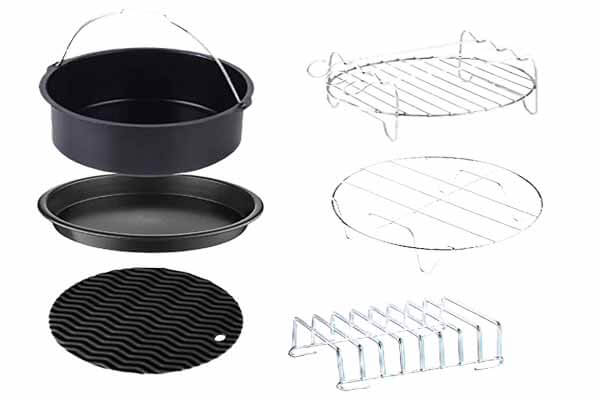 Are you tired of your food getting stuck in the frying basket? If yes, parchment liners are the solution to your problems. Parchment liners are put inside the frying basket to make sure food doesn't stick to the fry basket. The liners come with small holes to allow proper air circulation in the basket. Before frying, you should first put the liners in the fry basket, and then put your food. It's that simple!
If you want to bake using your air fryer, you should have a baking pan that can fit well inside your air fryer. Besides baking, you can use the pan to prepare eggs with veggies, macaroni and cheese, monkey bread and much more. All you need is to prepare what you want to cook, and put it in the pan. However, you can spray some oil in the pan before putting what you want to cook to prevent food from sticking. After that, you just need to put the pan in the air fryer for the cooking process.
You can simply turn your air fryer into a grilling appliance by using a grill pan. With the grill pan, you can cook steak, chicken, seafood, fish, burgers, veggies, and almost anything else you can cook using a grill. When you get your steak ready or anything else you want to grill, you should put it over the grill, and place it inside your air fryer. During the cooking process, constantly turn your steak, chicken or what you are cooking for it to cook evenly.
Cooking Racks with Skewers
If you want to cook two or more types of food using your air fryer at the same time, you need a cooking rack with skewers. Cooking racks increase the available cooking surface inside your air fryer. Therefore, you just need to arrange what you are cooking in the rack, and put it in the air fryer for cooking. However, you need to make sure that your rack is raised to leave a space at the bottom of the air fryer for proper air circulation.
Air fryers come with fry basket. This is where you put food for frying, roasting and even reheating. To use an air fryer basket is super easy as you just need to spray some non-stick oil inside the basket, put your food, and then, put the basket inside the air fryer. Is there an air fryer with stainless steel basket? Yes, there is. Avalon Bay AF25SS is an air fryer with stainless steel fry basket.
If you know how to use the above air fryer accessories, you will have an easy time when preparing food using an air fryer. Therefore, use the information, and you will enjoy making tasty and crunchy food using your air fryer.