Roast Potatoes? Yes! You can have 'em. With your air fryer tucked on your countertop, your opportunities are endless. You can put your air fryer into good use trying all sorts of recipe in an healthy, oil-less way. Many air fryer enthusiasts would like to know if the air fryer can be used to roast potatoes. The answer is true and you can treat yourself to some delicious dish of roast potato. Then, how do I cook roast potatoes in an air fryer? You ask, right? We'll show you exactly how you can make some tasty roastie.
Ingredients for Cooking Roast Potatoes
You surely know you'll have to get some important ingredients available aside from your sweet potatoes. With your air fryer available as well as two large potatoes, you'll need ingredients that will include;
1 tablespoonful of oil (optional)
Salt and pepper
Two large potatoes, and your
Air fryer
After you get this ready, the next step will be the preparation step.
Preparation& Cooking
The major thing in this step is to peel your potatoes and cut into roast shapes and sizes. You will also need to soak them in cold water for about 30 minutes. You'll then have to pat dry the wet potatoes with a paper towel and then allow it to dry. After you get this ready, you can then start with the cooking process.
Coat the potatoes with pepper and salt as well as the oil if you would be using it.
Set the temperature of the air fryer at 180C and cook for 15 minutes.
Shake the air fryer around to make sure the potatoes are evenly cooked.
Cook for 10 to 15 more minutes.
Remove your cooked roast potatoes from the air fryer and enjoy.
That is all it takes to make the most yummy and crispy roastie in your air fryer. All it takes is your air fryer, your potatoes and seasoning of choice and just 30 minutes to have your roastie on the dining table.
Tips for Cooking Roast Potatoes in an Air fryer
While trying to cook your roast potatoes in the air fryer, there are certain things you should take note of, to ensure you get the best result with your cooking. These are briefly explained below so you can get the perfect roast whenever you want it.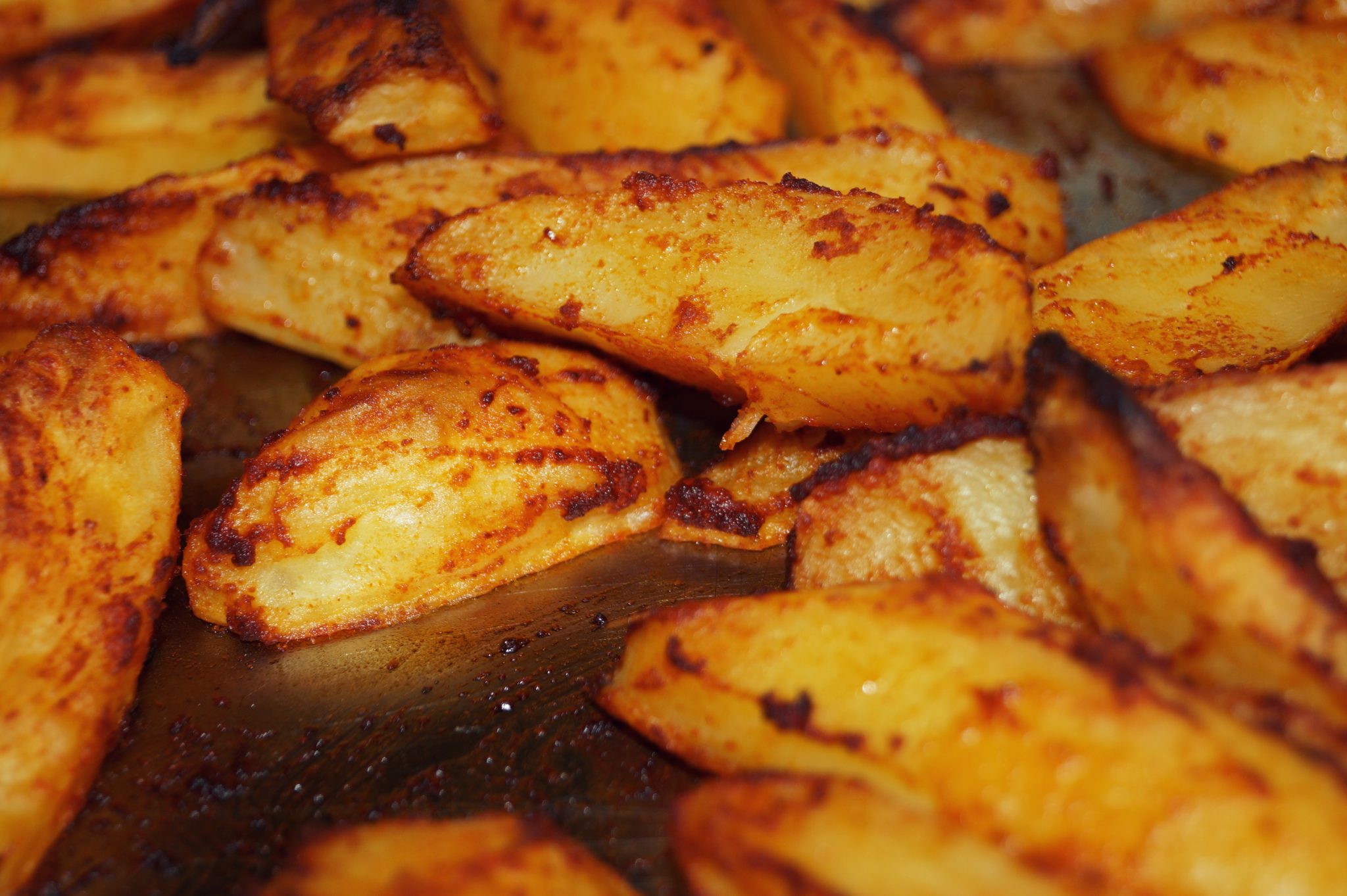 Do not overstock the air fryer with potatoes: This will yield a not so good result. Overcrowding the air fryer with too much potato will not allow the potatoes cook properly because air will not be able to circulate around evenly.
Another issue is dealing with leftover potatoes. When you have leftover roast potatoes, you can easily store them inside your fridge and they'll still be in good condition to be eaten the following day. All you'll need is to warm it up again in your air fryer for about five to seven minutes and you're good to go.
Roast potatoes are delicious meals and are loved by many people, you sure know how to prepare this in your air fryer by now. Let us know how your homemade roast potatoes taste in the comments box below.
How to cook roast beef in airfryer?
If you like roast beef like I do, you need to try roast beef from an air fryer. The beef is tender in the inside, and tastes great if you use the right seasoning. You just need to get your beef, dry it and season with salt and pepper or with your favorite seasoning. Then, preheat your air fryer for 3 minutes up to 390 degrees F. Put your seasoned beef in the fry basket, sprinkle some cooking oil, and cook for 25 minutes (for medium-rare) or 20 minutes per pound (for rare). Flip the beef multiple times for it to cook evenly until the internal temperature of the beef reaches 145 degrees F. Remove it when done, and let it rest for 10 minutes before slicing.
How to cook roast pork in airfryer?
When roasting pork in an air fryer, you first start to cover the pork with oil on both sides, and add salt and other spice(s) of your choice. After that preheat the air fryer for 3 minutes, and put the pork in the frying basket. Cook the pork for 10 minutes at 200 degrees C, and flip it. Cook for another 20 minutes at the same temperature. Then, set the cooking temperature at 180 degrees Celsius, and cook for 20 minutes. After that, you can use the meat thermometer to check for doneness. The pork will be done when the internal temperature of the pork is 145 degrees F.