After work or on weekends, you may want to make tasty cookies for your family. You can make cookies, including fried Oreos, with the air fryer in a few minutes. The cookies will be more delicious, and you will like making them in the air fryer. Want to learn how to make fried Oreos in air fryer? Keep reading to learn everything you need to know to make tasty air fryer fried Oreos.
Is air frying Oreos good?
Cooking Oreos in the air fryer is good. It ensures that you get crispy cookies that the whole family will like. In addition, air frying Oreos is super easy and takes only 15 minutes to be ready. Most importantly, you don't have to use oil while cooking, ensuring that your cookies are free of excess calories and fats.
What will you need for an easy cooking process?
You will need one of the best air fryers, with a capacity of 3.5 quarts. In addition, you will need parchment paper to line the air fryer basket or tray. Cooking spray is also essential to prevent the cookies from sticking on the parchment paper. Other items you will need are ingredients listed in the recipe below.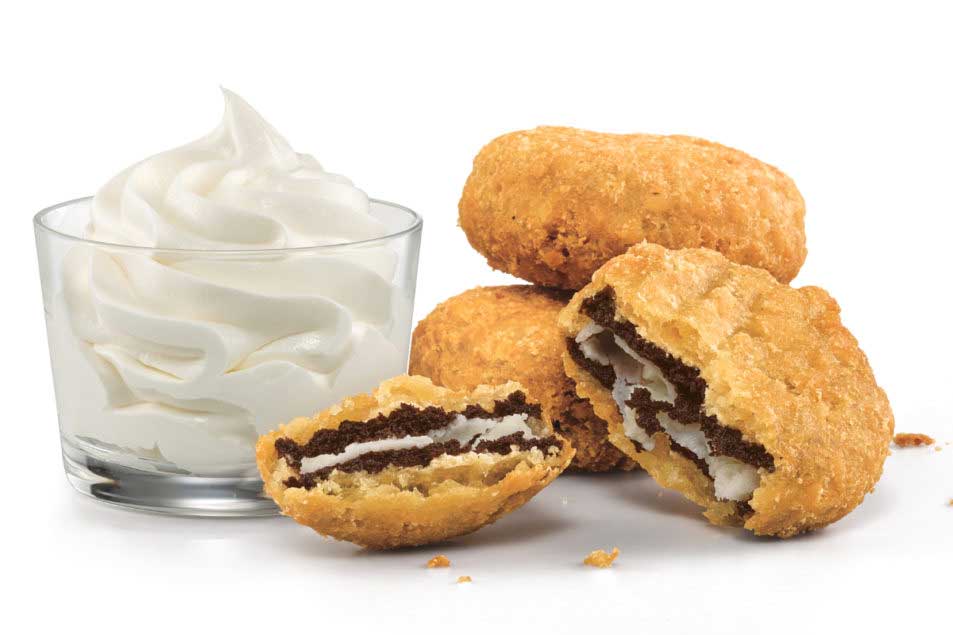 Air Fryer Fried Oreos Recipe
With this recipe, you will learn how to make fried Oreos in the air fryer. Follow the recipe, and you will love the resulting tasty and crispy fried Oreos.
Prep Time: 5 minutes
Cook Time: 10 minutes
Total Time: 15 minutes
Ingredients
12 chocolate sandwich cookies, Oreos
1 large egg
¼ cup of milk
1 tsp vanilla extract
2 tbsp sugar
1 cup of pancake mix
Confectioners' sugar
Nonstick cooking spray
Procedure
Preheat the air fryer to 350 degrees F for 3-4 minutes.
While your air fryer is preheating, whisk together the egg, vanilla, and milk in a small bowl. Add sugar and pancake mix, and whisk until well-mixed and smooth. The batter should be thick to coat the cookies and hold them in shape.
Once the air fryer is preheated, line the air fryer basket with parchment paper. Spray cooking spray on the parchments paper.
Dip cookies in the batter to coat and arrange them in the air fryer basket in a single layer, leaving space between them. Air fry for 10 minutes, flipping the cookies at the 5-minute mark. The coating will turn golden brown and puffed when the cookies are ready.
Once they are ready, remove them from the air fryer and dust them with confectioners' sugar before serving. Enjoy your cookies.
Notes
You can use any Oreos of your choice, and you will get almost the same results.
Cook in batches to avoid overcrowding the air fryer basket.
After cooking, remember to clean the air fryer correctly. Leaving it unclean can make it depreciate and have odors.
Do you freeze Oreos before frying?
No, Oreos don't have to be frozen before air frying them. This ensures that they are soft and golden brown after frying. You also cook them for fewer minutes than you would when frozen.
How do you reheat fried Oreos in the air fryer?
Place fried Oreos in the air fryer basket. Set cooking temperature to 320 degrees F and timer to 2-3 minutes. Your cookies will be reheated in just 3 minutes.
Final Words
If you have been wondering how to make fried Oreos in air fryer, the above information has helped you a lot. You can now make tasty fried Oreos at home using your air fryer. It is easy, and your family will love the treat.