Air fryers have taken over our kitchens and they seem unstoppable right now. Healthy foods, delicious and crispy fries, the magic continues without the involvement of oil. Oil has beenknown for their excess calories and fat which in turn are associated with several medical conditions. As much as air fryers have been doing a good job to curtail this, there is always this comparison people try to make, probably to know the most suitable air fryer for them. Common among those is the Philips  Air fryers VS Nuwave Air fryers comparison. This article will focus on these two and examine where they are similar, where they differ and how each one may be useful for you.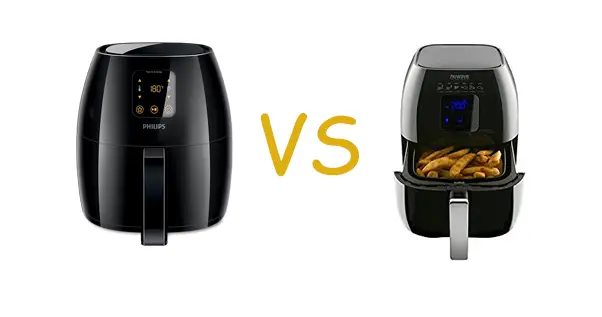 Similarities between Philips Air fryer XL & NuwaveBrio 36001 Air fryer
Both of these air fryers are digitalized and are controlled from a digital touchscreen interface. Digital air fryers are easy to use because the touchscreen interface is easily navigable.
They both come with removable drawers and food baskets that are non-stick and dishwasher safe. This makes food transfer in and out of the air fryer absolutely easy and makes cleaning too a sort of stress-free thing.
They both have a manually controllable temperature range between 175F to 390F that helps to cook food to your perfect desired taste.
Both of these air fryers have timers alongside an inbuilt auto timer that shuts off after a period of inactivity.
That is it about the similarities between these products. Now is the time to check out the various areas in which they are different.
Capacity & Size
Philips Air fryerAvance XL: The Philips Air fryer has a 2.6lb capacity enough to serve 4 or a few more people. The large capacity would also ensure you are able to fry at least 2 whole bags of French fries. We know how much you may love the Fries. It weighs 19lbs and measures around 16.6 x 12.4 x 11.9 inches.
Nuwave Brio 36001 Air fryer: This model of Nuwave Brio has a 3qt capacity, weighs 8lbs and measures around 11 x 8 x 13 inches in dimension.
Power
Philips Air fryerAvance XL: The Philips Air fryer XL boasts a power rating of 1750W/120V. With such high power rating, it is able to cook your foods faster and quicker than most other air fryers.
Nuwave Brio Air fryer: The Nuwave Brio Air fryer has a power rating of 1200W/120V, lower than the Philips Air fryer XL.
Pricing Comparison
Philips Air fryer XL: The Philips Air fryer seems the more expensive of the two. It retails well above $200.
Nuwave Brio 36001 Air fryer: The Nuwave Air fryer is quite affordable and retails well below $200.
When you compare the price of the Philips Air fryer XL to that of the Nuwave Brio Air fryer, it appears the Nuwave Air fryer is more affordable and cheaper though that does not mean it's lacking in quality.
Overall, the Philips Air fryer may emerge as your air fryer of choice due to the perks and additional features and of course, the Philips brand too. It's not like the Nuwave is also a walkover. Not at all, the margin is somehow narrow and the Nuwave seems a good choice too, considering it had such decent features and still had to be that affordable.
The ball is now left in your court to make your final decision, Philips or Nuwave. This Philips Air fryer VS Nuwave Air fryer comparison was not made purposely to declare an overall winner, but to outline the beauty, efficiency, similarities, and differences between these two products. Remember that they are up there among the best and whichever one you eventually go for would not disappoint you.