Cauliflower is a highly nutritious vegetable with very rich contents of Vitamin C, folate, dietary fibers and many more. This vegetable is perfect for weight watchers who are in need of low carb diets to replace their already heavy carb diets. While we can eat cauliflower in raw form as in vegetable salad, we can also roast, steam or boil it.
However, roasting, steaming and boiling would normally reduce the nutritional value of the veggie. However, doing this in an air fryer still helps to combat this and ensure the nutritional value is still maintained. Today, our air fryer cauliflower recipe will include eggs and bread crumbs. Let's go right into this in the next part below.
Ingredients for Cooking Cauliflower in Air fryer
For a healthy meal of cauliflower, you may need to get the following ingredients on hand before cooking;
About a half kilogram of medium-sized cauliflower head
A single, beaten egg
Bread crumbs from a slice of bread
One can easily deduce that this is one very easy –to-prepare recipe that will not take you much time to prepare. Once you get the above ready, you're ready to begin cooking. But before that, you'll need to prepare the ingredients in the perfect state for cooking, that is what we'll explain in the next part of this article.
Preparation of Cauliflower for cooking in air fryer
Boil the cauliflower head in water mixed with a little salt until the vegetable becomes tender enough.
Then, cut the flower heads into preferred sizes and keep aside in a bowl.
Beat the eggs in another bowl and keep that in one corner too.
Put the bread crumbs aside too in flat plate.
Pre-heat the air fryer at 180 degrees for about five minutes.
After this, then you can proceed to the cooking stage as outlined in the immediate part below.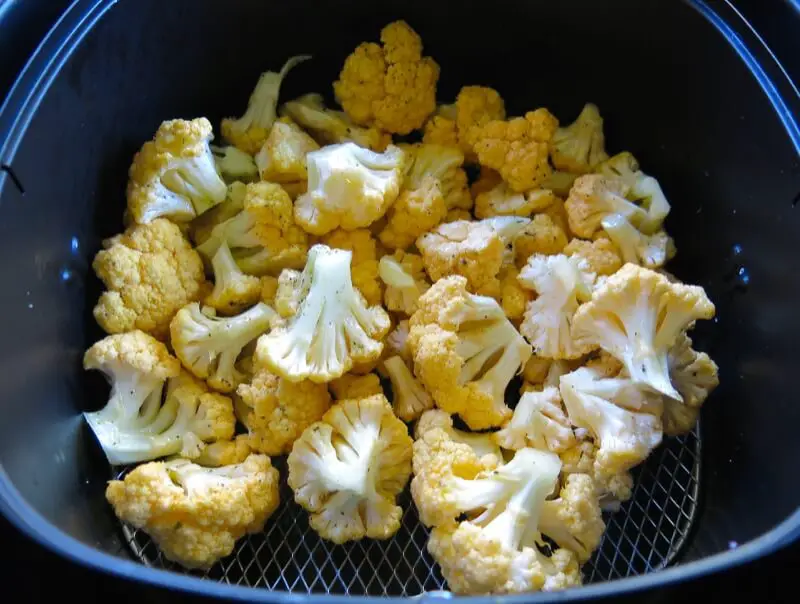 Cooking the Cauliflower in Air fryer
Dip the cauliflower in the beaten egg and add some bread crumbs to it and mix very well.
Place this in the non-stick drawer and cook for 15 minutes.
Toss the cauliflower and air fry again for 10 more minutes.
Remove from the drawer and now your delicious dish of crispy cauliflower with egg and bread crumbs is ready to be served.
As can be seen, this recipe can be easily prepared within 15 minutes, if you already have all the necessary ingredients with you. Cooking the cauliflower in the air fryer in this way helps to retain much of the nutritional constituents that would have been lost to steaming, boiling or roasting in the traditional way. In place of bread crumbs, you can also replace with gram flour. It will still give you a perfect taste.
The recipe is low carb and will be beneficial to people watching their weight. Along with being a healthy choice for fitness enthusiasts, the cauliflower meal is also very delicious, crispy and yummy.  You get all the goodies of both worlds altogether in one sweet and delicious, healthy meal.