You probably think that making sea scallops at home is a complicated process. However, I suppose you might be wrong. It is quick and easy with the air fryer. You can make delicious and flavorful air fryer scallops in less than 10 minutes, and you will enjoy the dish with your entire family. Keep reading to learn how to cook scallops in air fryer.
Why will you love these air fryer scallops?
Cooking scallops in the air fryer takes only 10 minutes. In addition, these scallops are high in protein, low in fat, and low in calories, making them suitable for your health, especially if you are watching your weight.
You can also take the scallops as dinner, lunch, snack, or appetizer.
Air frying tips for best results
If you are cooking for a small family, you can use a small air fryer. However, if you want to cook for a family of 4 people or more, consider a 5.8-quarts air fryer like Cosori Smart WiFi Air Fryer 5.8QT. But if your air fryer is smaller, don't worry, as you can cook the scallops in batches until you make enough for the entire family. In addition, if you want to get the best results, don't use cooking spray. Instead, use cooking oils to give the scallops a fine texture and prevent discoloration of the air fryer basket.
When arranging the scallops in the air fryer, be sure to place them in a single layer, leaving space between the scallops. This ensures that the scallops cook evenly on all sides. Don't forget to flip the scallops halfway through the cooking process. Note that cooking time will vary depending on the size of the scallops. Typically, smaller scallops cook faster than bigger ones.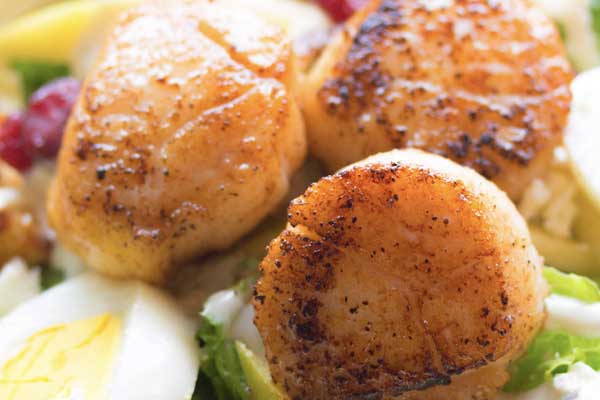 Air Fryer Scallops Recipe
This recipe is the easiest way to learn how to make scallops in air fryer. In less than 10 minutes, you will have delicious scallops on your plate.
Prep Time: 2 minutes
Cook Time: 6 minutes
Total Time: 8 minutes
Ingredients
6 fresh scallops
1 tsp salt-free lemon pepper seasoning
½ tsp paprika
Salt, to taste
Pepper, to taste
1 tbsp softened butter
1 tsp cooking oil
Procedure
Rinse the scallops, and pat dry them with a paper towel.
Preheat the air fryer for 3 minutes to 400 degrees F.
While the air fryer is preheating, season the scallops with pepper, paprika, lemon pepper seasoning, and salt.
Once the air fryer is preheated, spray cooking oil on the inside of the air fryer basket. Place the scallops in a single layer in the basket. Cook for 6 minutes, flipping the scallops after 3 minutes.
Once done, remove. Serve with softened butter and enjoy.
Notes
Use fresh lemon juice if you don't have salt-free lemon pepper seasoning.
Cook in two batches if six scallops can't fit in your air fryer basket at once when arranged in a single layer.
How do you know when the scallops are cooked?
Fully cooked scallops should feel firm to touch and look opaque. Alternatively, you can check the internal temperature. Ready scallops should have an internal temperature of 125 degrees F and above. But smaller scallops can be ready when their internal temperature is 120 degrees F.
Final Words
We believe you've learned how to cook scallops in air fryer with the above information. The recipe is not complicated, and you need a few readily available ingredients to make the dish. In less than 10 minutes, you will have delicious air fryer scallops on your plate. Use the information, and you will never get tired of making scallops using your air fryer.